Goa has plenty in store for its visitors, from the sandy beaches to pristine churches, restaurants serving mouth-watering dishes and late-night parties. This is the town filled with rich historical heritage and the city once served as a Portuguese colony. Even though the Portuguese are long gone they still have a huge impact on the Goan culture, cuisine, and architecture. The locals are warm-hearted people who welcome the tourists with a big smile. The low alcohol prices are also the reason behind their smiley faces. Here is a list of some places that you must visit when you are in Goa.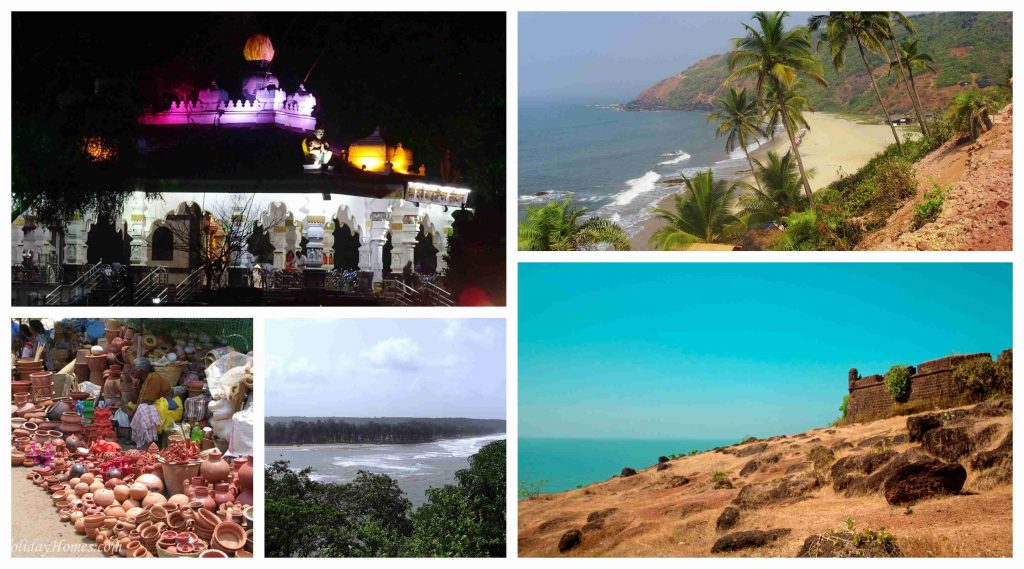 Arambol Beach:
In comparison to the rest of the beaches in Goa, the Arambol beach allows visitors to enjoy a more peaceful experience as it is less crowded. Visitors can start their day with morning yoga, take long strolls by the beach or go on a shopping spree at the nearby market.
Suggested to Read: 5 Places that you Must Visit in Goa for a Memorable Vacation
Chapora Fort:
The fort was built by the Portuguese and is named after the river surrounding the fort. The fort was taken by the Maratha ruler, Sambhaji from the Portuguese who later surrendered the fort to the Mughals. The fort also became quite popular among tourists after the shooting of the blockbuster movie, Dil Chahta hai that took place in the fort.
Bodgeshwar Temple:
The temple is surrounded by lush greenery and houses a small shrine dedicated to the Kanakeshwar Baba. The temple is visited by a large number of tourists throughout the year and it is believed that the deity fulfills all their wishes. The visitors to the shrine also give offerings to the deity when their wishes are fulfilled.
Mapusa Market:
The market is open every day with small vendors selling fresh fishes, a variety of spices, dry fruits, vegetables and much more. The market is connected to the Mapusa bus stand and receives a large number of visitors from different parts of Goa.
Grand Island:
The island is also popularly known as the Bat Island and is only accessible via boat ride.  During the boat ride, tourists can also look forward to encountering some beautiful sea creatures like dolphins. Tourists can also indulge in activities like fishing, snorkeling in the Arabian Sea.
Discover the beautiful city of Goa and leave with countless memories that you will cherish for a lifetime. If you are planning to visit the city then book your stay at Estrela Do Mar Beach Resort in Calangute Goa, one of the best beach side resorts in Goa.